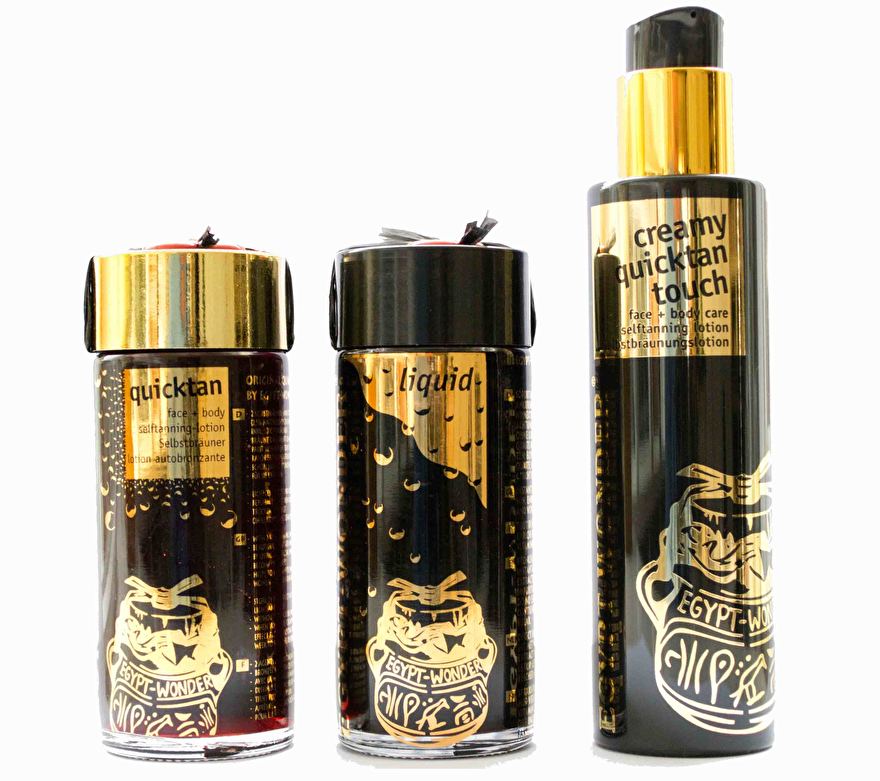 Egypt-Wonder QUICKTAN
Wear off Formula
A revolutionary self-tanner with skin moisturisers. Dries instantly, easy to apply, odour free, and produces a natural tan.
Egypt-Wonder so well respected and loved by its customers have now introduced a self-tanning liquid called QUICKTAN to compliment the existing Egypt-Wonder Liquid. Quicktan sheer tint provides an immediate tan colour upon application while the lasting tan develops further over a two-hour time period. Quicktan is a "wear off" liquid tan, lasting up to 7 days . Usually a second application produces a golden tan effect.
Application: The velvety-soft application mitten ( now replacing the pad ) ensures even coverage.
Egypt-Wonder Liquid
Wash off Formula
A bronzing liquid for a natural looking instant tan. This Liquid is a wash off instant tan.
Egypt-Wonder Liquid gives you a natural looking tan without waiting. It is specially formulated with carrot and nut extracts enriched with vitamin E.This product is a wash off formula. Egypt Wonder Quicktan is the wear off formula.
Application: Easy to apply with the powder puff provided. apply to the face area and into the hair line. Also, of course the liquid is perfect for the arms, legs, décolleté and body area Remove Egypt-Wonder liquid simply by soap and water or with any cleansing lotion.
Creamy QUICKTAN Touch
Quicktan TOUCH
a creamy moisture lotion with a touch of Quicktan.
Tan as you moisturise!
Egypt-Wonder Quicktan TOUCH is a moisturising crème which also provides a gradual tan.
As the product does not contain mineral oils?only natural oils, such as Jojoba, olive and avocado oil, plus shea butter and silk, means you skin is best cared for.
Egypt-Wonder helps maintain your summer look longer!